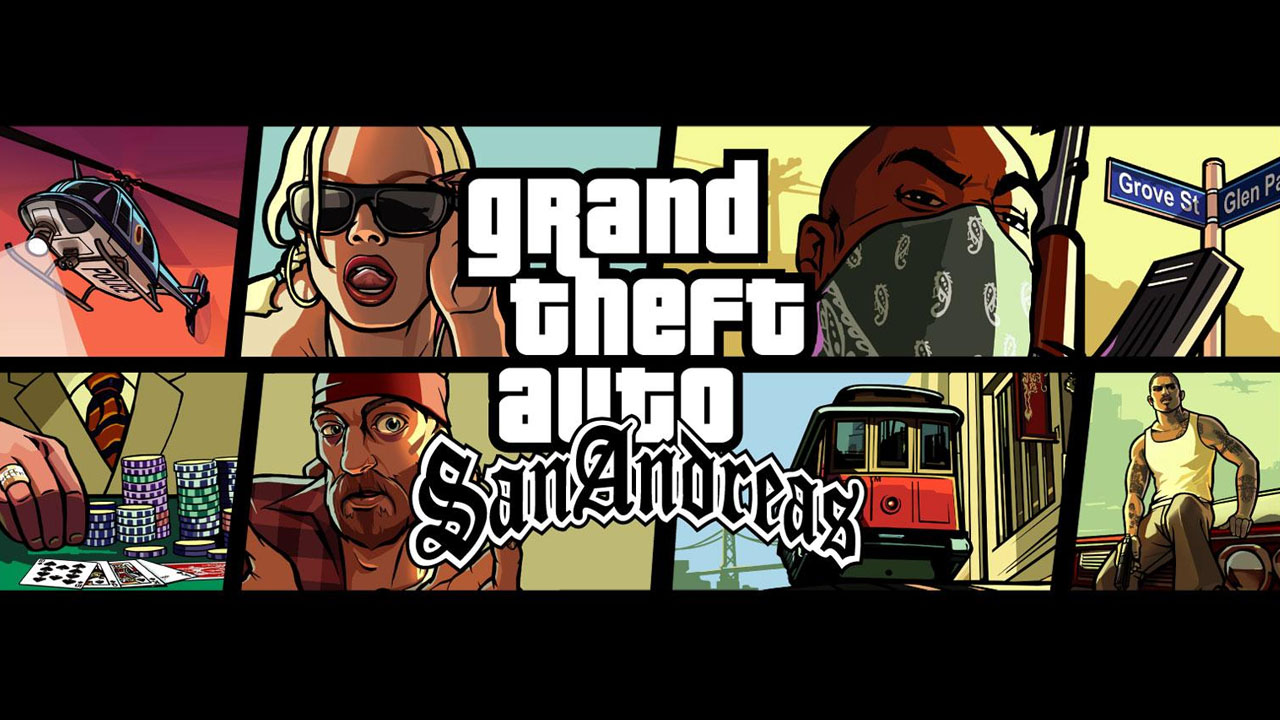 Grand Theft Auto: San Andreas is a 2004 action-adventure game developed by Rockstar North and published by Rockstar Games. It is the seventh game in the Grand Theft Auto series, following Grand Theft Auto: Vice City (2002). It was released in October 2004 for the PlayStation 2, and in June 2005 for Microsoft Windows and Xbox. The game is set within an open world environment that players can explore and interact with at their leisure. The story follows former gangster Carl "CJ" Johnson, who returns home after the death of his mother and is drawn back into his former gang and a life of crime while clashing with corrupt authorities and rival criminal syndicates. Carl's journey takes him across the fictional U.S. state of San Andreas, which is heavily based on California and Nevada.[b]
The game features references to many real-life elements of the world, such as its cities, regions, and landmarks, with its plot heavily based on several real-life events in Los Angeles in the early 1990s, including the rivalry between real-life street gangs, the crack epidemic of the 1980s and early 1990s, the LAPD Rampart scandal, and the 1992 Los Angeles riots. Unlike its predecessor, San Andreas introduced gameplay elements that were incorporated in later games, including RPG-style mechanics, customisation options with both clothing and vehicle appearances, a vast array of activities and mini-games, and the inclusion of gambling games.
Considered by many reviewers to be one of the greatest video games ever made, San Andreas received critical acclaim upon release, with praise directed at its music, story and gameplay, and criticism for its graphics and some aspects of its controls. It was the best-selling video game of 2004, and with over 27.5 million copies sold worldwide as of 2011, it is the best-selling PlayStation 2 game and one of best-selling video games of all time.[3] Like its predecessors, San Andreas is cited as a landmark in video games for its far-reaching influence within the industry. The game's violence and sexual content was the source of much public concern and controversy. In particular, a player-made software patch, dubbed the "Hot Coffee mod", unlocked a previously hidden sexual scene. A high-definition remastered version of the game was released for both Xbox 360 and PlayStation 3 in 2015. In June 2018, the game was added to the Xbox One Backward Compatible library. San Andreas has been ported to various other platforms and services, such as OS X,[4][5] Xbox Live, PlayStation Network[6] and mobile devices (iOS, Android, Windows Phone and Fire OS).[7] The next main entry in the series, Grand Theft Auto IV, was released in April 2008.